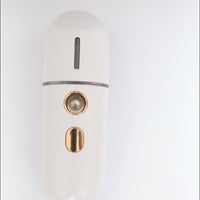 Mist your client's lashes at the end of the application to help the glue cure and increase retention. Nano-misters are a great option to increase humidity around lashes if your humidity level is low.
Hold at least 30cm away from the client and never hold in one spot. Make sure you swipe from side to side quickly so the lashes do not become oversaturated as this will cause poor retention. 6 swipes are sufficient.
After misting you can also dab on our bonder to seal in the glue and extend retention
USB charging cord included
Easy to fill with water
Stands upright
PREMIUM PRODUCTS YOU CAN TRUST
Premium products produce premium lashes.
OUR COMMITMENT
To consistently provide well stocked, premium products and outstanding customer service levels.