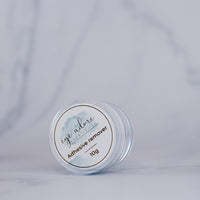 Directions:

Apply lash pads and stick down bottom lashes to avoid remover coming into contact with your clients skin.
Simply apply the cream remover along the lash line where the extensions are bonded to the natural lashes. You can apply the remover with our micro application wands or our lash prep applicators.
Allow the remover to sit for 10 minutes to ensure it has completely broken down the lash adhesive and then using your lash prep applicator or tweezers - wipe in a downwards motion to remove the unwanted extensions.
- make sure to remove all the extensions, glue and remover before washing with water, if you do not remove all the product it can leave a  white residue when washing. If this happens you will have to apply more remover or do a double wash to remove the white residue caused from the glue shock curing.
Wash the eyes thoroughly removing all the cream remover
Brush lashes out using a disposable lash wand. If stinging occurs wash again.
5gr tub
*If you are applying a fresh set of lashes after a removal it is important to make sure the cream remover has been fully removed or it could lead your client to retention issues*
PREMIUM PRODUCTS YOU CAN TRUST
Premium products produce premium lashes.
OUR COMMITMENT
To consistently provide well stocked, premium products and outstanding customer service levels.