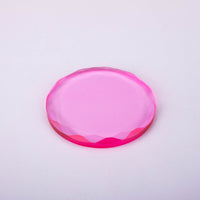 The crystal lash tile is perfect to hold your eyelash extension glue. Its cool surface keeps your adhesive fresh whilst eliminating the need to change the glue drops too often. The cold adhesive also minimizes the amounts of fumes you and your clients are likely to inhale during the application.
Comes in Pink or Blue - all tiles differ in look and design.
Please ensure that you clean it after each use as the glue will dry on the jade and become hard or simply put a piece of tape on jade and pull off after application is finished. Keeps your jade stone clean.
PREMIUM PRODUCTS YOU CAN TRUST
Premium products produce premium lashes.
OUR COMMITMENT
To consistently provide well stocked, premium products and outstanding customer service levels.